From the Archives: September 2013
CFPB Publishes Remittance Transfer Rule Resources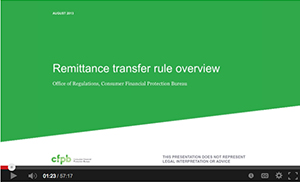 On Aug. 8, the CFPB issued resources for financial institutions to assist with the compliance of the International Remittance Transfer Rule. The first resource is an updated small business guide. According to the CFPB, this guide contains the most recent changes to the rule, which is effective Oct. 28. Since there were multiple amendments to the rule, this guide should be helpful for credit unions to understand their requirements if they will continue to provide international remittance transfers.
The CFPB also released a video, which is a webinar providing an overview of the rule, the recent changes and responses to questions received about the interpretation and implementation of the rule.
Also updated by the CFPB was a list of countries and other areas that qualify for an exception under the rule since certain estimates of amounts are allowed to be disclosed instead of exact amounts because the laws of these countries do not allow for the disclosure of exact amounts at the time the transfer is authorized. This list can be found here.

Priority Initiatives
Federal and State Legislative Issues
Federal and State regulatory Issues
MCUL Publications