From the Archives: January 2014
New Year Brings a Variety of Issues for Credit Unions

By David Adams
Happy 2014! With a new year comes new plans and strategies in business as well as a few personal resolutions to improve ourselves. In that spirit, we have done a bit of soul searching at MCUL & Affiliates, and discovered that while we think our strategies are on the right track, we hope to be more responsive to specific challenges that credit unions are facing today. So, MCUL Executive Vice President/COO Ken Ross and I are making the rounds across the state, sharing our thoughts on the good, the bad and the ugly with regard to opportunities and challenges facing our industry. This is also a process that helps us hear from you so that we are assured that our agenda meets your needs.
Today, I want to focus on what MCUL & Affiliates is working on for 2014 to best be of service to you. Credit unions are dealing with many pressures – from regulations to new technologies to declining income. Also, our industry faces challenges such as the federal tax reform, retailer security breaches and ever-expanding compliance burdens. But there are a lot of good things going on too, such as improved earnings and capital adequacy and growth in membership and loans. I like to characterize it as "the good, the bad and the ugly," but clearly there are far more good forces than bad ones affecting our industry. Our mission at MCUL & Affiliates is to help our industry confront these major forces in the best way possible, especially on issues where we have a common purpose such as advocacy.
The specific tactics we use to fulfill our mission changes depending on the landscape and issues that are present at any time, but it always aims to be responsive to credit union needs and changing factors in the economy and the industry. I encourage each credit union to evaluate your most pressing challenges and whether MCUL & Affiliates could be of help in your business plan. You might be surprised to find that we are already taking action and can be of service. If not, let us know so we can look for ways to help. To contact us, please feel free to work through your league representative or contact me directly. Contact information is available on our website, www.mcul.org.
So, let's take a look at some of the positive trends we are seeing. MCUL analyzes Michigan data from the NCUA Call Reports each quarter and reports a number of improvements through Sept. 30:
Capital adequacy continues to improve, hitting 11.42 percent and most credit unions, especially our larger ones, have seen dramatic improvement in earnings in 2013.
Net charge-offs continue to decrease, down to .58 percent from .77 percent at the end of 2012
Delinquencies are also down, from 1.08 percent in 2012 to .98 percent. So, when looking at these low delinquency and charge off numbers, it is clear that credit unions are well-positioned to take on more lending risk.
Membership has grown for nine straight quarters, up 44,000 in the third quarter alone. This signals that our CU Link campaign is helping to grow membership and the efforts of credit unions individually and collectively to promote themselves are paying off.
Deposit market share is up to 19 percent even as Michigan's banks return to a healthier position.
New auto loan balances are up 5.2 percent in the quarter and used car loans are up almost five percent as well. So, lending growth is finally showing some positive signs of recovery.
And, according to our annual consumer awareness survey, consumers are more likely to consider a credit union than a bank when they need a new account. This is a dramatic shift from 2004, just a few years ago when consumers were much more likely to choose a bank over a credit union.
Trends are important to follow, and it is gratifying to watch them improve, but there is much more to the "good" part of this story. For instance, we are well positioned with key lawmakers through strong grassroots efforts that include successful events such as the CUNA and Michigan GACs, Capitol Day, legislative breakfasts and Hike the Hill. These relationships become crucial when legislators contemplate changes to the tax code, as they are currently doing, which puts the credit union tax exemption in jeopardy. Through MCUL's efforts, all 16 members of Congress from Michigan have made official public statements in support of credit unions or their tax exemption.
During 2014 we expect to work on protecting the tax exemption, changes to deal with the housing finance sector to ensure credit is available to consumers and issues that will hold retailers responsible for losses caused by breaches of their payment systems, to name a few. This job of advocating for our industry is driven by MCUL and CUNA, but needs the support and participation of all credit unions. As you look at your schedules and priorities for the year, please consider lending your support – through your own participation or that of key members of your staff – to our events. In addition to your time, financial resources are also important. Our PAC fund-raising efforts will continue this year, and the new issue advocacy fund called A Stronger Financial Michigan seeks investment from each credit union to fund advertising and other efforts on issues of vital importance. Information about A Stronger Financial Michigan was included in the 2014 Affiliation package, and a contribution request was included on your 2014 System Support Invoice. If you doubt the importance of this new fund, just take note of the $1 million spend already under way attacking Congressman Gary Peters by linking him to Obamacare. These new super-PAC funded ads have changed the political landscape and credit unions need to participate in a positive way on behalf of our political friends.
Another strong relationship that provides value to Michigan credit unions is our subsidiary, CU Solutions Group. Through CUSG, credit unions have access to experts and products in several operational areas. These for-profit business lines support credit unions with expertise as well as through funding that allows MCUL to provide additional services at very low cost, which means that credit unions in Michigan pay the lowest dues in the country while receiving a high level of service. In addition to the lower dues, CUSG helps to fund the CU Link cooperative advertising campaign, A Stronger Financial Michigan issue advocacy fund and the Credit Union Assistance Fund, all important causes for our industry that are funded by MCUL subsidiary funds.
So, while there are many positive forces affecting our industry, there are also many ongoing challenges that MCUL is trying to help with. For instance:
Federal laws and regulations – We recognize this as one of credit unions' biggest challenges.
Building consumer awareness – Even though we're making progress here, many consumers and small businesses still don't know what they're missing.
Keeping staff and volunteers well trained – MCUL recognizes that this credit union challenge hasn't gotten easier. It's more complex and difficult. But we're here to help.
And meeting member expectations for mobile banking and new technologies – Big banks have more resources for technology and nontraditional players such as Google, PayPal, American Express and others are changing the payment systems landscape.
MCUL & Affiliates has plans in place to address most of these concerns.
First, federal challenges: We work closely with CUNA and are focused on relevant and impactful results related to modernization of the federal charter, retailer issues such as the Target security breach, comprehensive tax reform that puts the tax exemption in danger, GSE reform to deal with the housing finance sector and regulatory relief measures.

Second, consumer awareness: This year will be the 10th year that we have executed an expanded statewide media campaign to reach out to consumers about credit unions. We are working on new creative pieces for this year and recently posted a few photos of the filming of the television commercial on the CU Link Facebook page. The messages of lower auto loan rates, free ATMs and member savings will be communicated along with our campaign call to action: "It's time to own your money." I personally encourage every credit union to consider a full-share contribution to this campaign to support these over-arching messages that credit union membership puts real money back into members' pockets.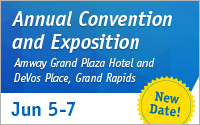 Third, training needs: Through our 2014 education offerings, MCUL is addressing specific issues such as payments technology and regulatory changes that drive the way credit unions do business. Our Annual Convention and Exposition, in Grand Rapids this year from June 5-7, will focus on payments, including a keynote speech from Dan Schulman of American Express. Compliance, lending and marketing issues will be covered at events in February and the new CFPB mortgage and other rules will be covered in depth through webinars and webinars on demand. Many other training topics are planned, visit the MCUL Education Department's website to learn more.
Finally, remote service delivery or mobile banking: Our Technology Solutions area of CU Solutions Group is focused on delivering products and services that help credit unions tap into new mobile banking trends such as remote check capture, digital wallet technologies and mobile apps as well as continuing to provide a secure hosting environment and responsive website design that automatically adjusts for optimal viewing depending on the device used.
Now, let's take a look at the over-arching issues that need to be addressed in our industry – these are the things that I call "ugly" – and how MCUL & Affiliates plans to advance these issues during the coming year.
Number 1, the Target security breach at the height of the Christmas shopping season is another case of retailers allowing a problem to occur while credit unions are left to pay the price. CUNA and MCUL are currently collecting information from credit unions via an online survey about the costs of this massive breach. Click here to take the survey. We are also communicating with lawmakers and exploring legislative remedies to fix this problem by shifting more responsibility to merchants.
Number 2, our partnership with General Motors to provide discounts on new vehicles could be at risk without strong support from credit unions. We have helped GM sell more than 500,000 vehicles and we want to maintain this benefit for members. As GM's fortunes improve, they reportedly are looking at new options for financing such as again owning a captive finance company. With even stronger credit union support, we can prove that credit unions are a strong long-term financing partner.
Number 3, small-asset credit unions continue to struggle. Smaller credit unions lag in loans and deposits, and their loan-to-deposit ratios continues to be under 50 percent. And more than half of all credit unions under $20 million in assets, lost money in 2013. MCUL offers a series of training sessions geared toward small credit unions, as well as advertising support through the CU Link campaign, educational and operational support from the Michigan CU Foundation, free strategic planning upon request and the CU Assistance Fund to support financially challenged credit unions.
Finally, continued concerns about the CFPB and its unbridled ability to promulgate consumer protection regulations that have the unintended consequence of restricting access to mortgage credit and other affordable financial services remains a concern. An avalanche of new mortgage rules are going into effect this month, and the agenda lists more rules on the horizon this year. MCUL will continue to monitor the changes, provide resources and information to credit unions, and answer questions and lend support through the Compliance Helpline via phone or email support. So, while regulatory compliance is part of the MCUL's mission, we also recognize that our associations need to find ways to reduce regulatory burden with legislative fixes. Not an easy task, but one we must take on.
It is going to be a busy year. We have many plans for ways to address the opportunities and challenges identified here, and welcome your comments, questions and support throughout the process. I can't stress enough that credit unions have a very important role to play by attending events; sharing insights, specific challenges and ideas, getting to know your lawmakers and providing the highest level of financial support possible for our CU Link campaign, A Stronger Financial Michigan issue advocacy fund, and the Michigan CU Foundation. Start today by visiting mcul.org and cusolutionsgroup.org to learn more about the areas of service we offer.
View the "Michigan Priority Report" on CUBE TV for a video summary of MCUL & Affiliates CEO David Adams' January Priority Report introduction.