Hurry! Register Now for Lending and Marketing Conference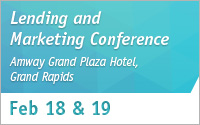 Lending. It is the backbone of the credit union business model. Marketing. It is the foundation of how people know what products and services are available and what the benefits are. While it all sounds straightforward, lending and marketing are two broad-based and vital aspects of credit union operations and together the topics combine into the popular, well-known MCUL & Affiliates Lending and Marketing Conference.
Set for Feb. 18-19 at the Amway Grand Plaza Hotel in downtown Grand Rapids, this year's event agenda is packed with great keynote presentations and breakout sessions. Participants are welcome to attend training from either the Lending Conference or Marketing Conference agendas, as well as benefit from exciting networking opportunities, enjoying a vendor showcase and even partaking in an optional morning Zumba exercise session. Online registration is now available for the Lending and Marketing Conference. To view pricing, hotel accommodation details, the complete agendas and registration information, click here.
Priority Initiatives
Federal and State Legislative Issues
Federal and State regulatory Issues
MCUL Publications