Communicating Arts CU Wins Chicken Trophy for Opening Most Save to Win Accounts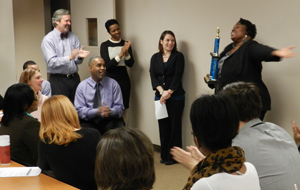 Sabrina Lee-Brewster celebrates being named the top acccount opener during the Chicken Trophy contest at Communicating Arts CU. She opened 123 of the 169 Save to Win accounts opened during the contest. Standing with her are, from left, Hank Hubbard, Monique Dunbar, Jessica Demorest and Lee-Brewster.
DETROIT – Encouraging saving at Communicating Arts CU is a big deal, so the credit union does everything it can to encourage its members to save for the future.
And one of the best ways CACU has found for encouraging saving has been Save to Win. Communicating Arts – with just $34 million assets – opened the most new Save to Win accounts in the 2012 Chicken Trophy Challenge which ran from Sept. 1 through Oct. 31. Why is it called the Chicken Trophy? More on that in a bit.
Monique Dunbar, training and development manager for CACU, said credit union staff enjoy celebrating with members, even cheering for them when they make their Save to Win account deposits.
"It's extremely rewarding … to see the look on members faces," Dunbar said.
The credit union promotes Save to Win through word of mouth, but it also has Save to Win promotional pieces in its lobby as well as behind the teller stations. On one large piece, pictures show winners of some of the monthly Save to Win prizes.
CACU CEO Hank Hubbard said prior to the introduction of Save to Win, he was looking for a program that would encourage his members to save.
"I was trying to figure out how to encourage our members to save more," Hubbard said. "Building a nest egg is really important to us."
In 2009, in partnership with Doorways to Dreams and the Filene Research Institute, MCUL & Affiliates started Save to Win and Hubbard had his answer.
Financial Services Representative Sabrina Lee-Brewster led the way for CACU, opening 123 new accounts out of a total of 169 accounts opened by the credit union as a whole during the contest.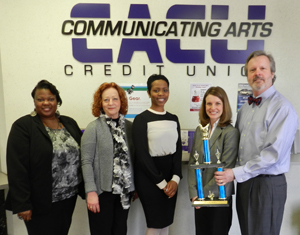 From left are top account opener Sabrina Lee-Brewster, a financial services representative; Senior Vice President Kim Vermander; Training and Development Manager Monique Dunbar; Barrie Brown, marketing consultant with MCUL & Affiliates and formerly with Community Driven CU, which won the Chicken Trophy last year, and CACU CEO Hank Hubbard.
"It's not only about saving," Lee-Brewster said. "You get to save along with winning."
In February, the league will announce 10 people who will get $10,000 each in the Save to Win 2012 Grand Prize Drawing. Hubbard hopes a couple of those winners are CACU members.
So what about that trophy? Northwest Credit Union Association COO Denise Gabel, who at the time was the chief innovation officer for the Filene Research Institute, was walking through an airport store when she saw a purse made from a rubber chicken.
She bought it and now everywhere she goes with her chicken purse, a conversation starts. The purse's creator had a crazy idea that found success.
Just as with the chicken purse, some people thought it was crazy for credit unions to establish a program that gives away cash prizes. They said it wouldn't work. But just like the chicken purse creator found success with his innovative idea, so did Michigan's credit unions.
In 2012 , 58 Michigan credit unions participated in Save to Win, and helped more than 15,000 people save $43.5 million. Nebraska just completed its first year in the program. Washington and North Carolina will offer the program for the first time this year.